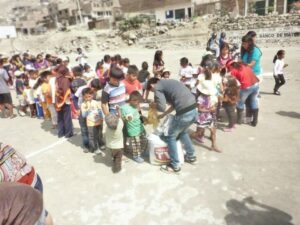 Sugar cookies decorated like snowmen. Chocolate fudge. Candy canes. These are the Christmas treats those in the States dream of when Christmastime rolls around each year. In Peru, though, they dream of a special cake called panetón. Panetón is a fruitcake – soft, sweet, and filled with jellied fruits and candies. It's delicious and something every Peruvian looks forward to when the calendar rolls to December. 
It's also something that BCM Peru's ministry, Pennies for Peru, hands out for free at their annual Christmas shows. Pennies for Peru (Compartiendo – "sharing" – in Spanish) is a street ministry that reaches hundreds of children with the Gospel each year. During two weeks in the month of December, all the BCM Peru missionaries, the BCM Peru Bible school students, and volunteers head out to different districts in and around Lima and the jungle cities of Tarapoto and Iquitos to perform Pennies for Peru twice a day. These shows include puppets, songs, games, and a Gospel presentation. The shows vary from year to year, but one thing remains the same: they always offer a free snack at the end. During the Christmas season, that snack is hot chocolate (yes, hot chocolate, even though they have begun summer!) and panetón.
Just like Christmas cookies and fudge are a draw to kids in the States at Christmas activities, hot chocolate and panetón bring crowds of kids to Pennies for Peru shows. They advertise the free snack and use that as a way to draw people to the shows. 
However, they can't offer these panetónes without help. Many are donated by area churches and individuals, but they still need more. Because the Christmas Pennies for Peru reach literally thousands of children (along with teens and adults who stay to watch), they need roughly a thousand panetónes. One panetón costs $3 and will feed about 12 children.  Would you be willing to donate a panetón? This one, small act can help a child learn the true meaning of Christmas this holiday season.

While you're out doing your Christmas shopping, look for panetónes in your local grocery store! You will find the Italian version, always sold in a box, in many local stores. And while you enjoy it with your family, pray for the thousands of Peruvian children who will be hearing about Jesus for the first time this December.

http://vimeo.com/57417829